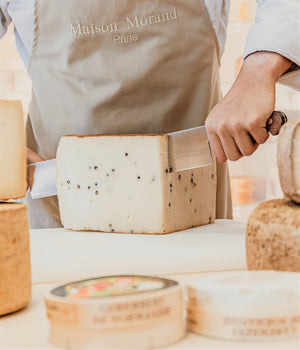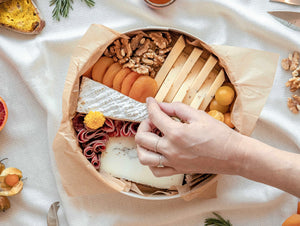 Our shop
Our team of cheese experts is passionate about sharing their knowledge and helping customers discover new flavors and pairings. We believe that cheese is best enjoyed with friends and family, and we take pride in creating a warm and
welcoming environment in our shop. Whether you are a seasoned cheese connoisseur or a curious newcomer, we are here to guide you through the wonderful world of cheese!
Thank you for choosing Maison Morand as your destination for exceptional cheese. We look forward to welcoming you to our shop and sharing our love of cheese with you. Link to the address of our shop here!
Our delivery
We believe that every cheese lover deserves the finest selection of artisanal cheeses delivered straight to their doorstep.
With our instant delivery service in Dubai, you can enjoy our cut-to-order delicious cheeses in just 30 minutes. And if you're looking to indulge in one of our exquisite cheese boards, fear not – we'll have it delivered to you in just one to two hours, depending on the rush!
For all other Emirates, you will be delivered the next day if the order is placed before 5pm!
Our story
Our passion for cheese dates back to our family's roots in the French countryside in Annecy, where we grew up surrounded by rolling hills, picturesque villages, and local cheese makers. When we moved to Dubai, the only thing missing was good real artisan cheese.
This is when we committed to preserving this heritage and sharing it with cheese lovers in the UAE. We carefully curate our selection of cheeses, sourcing only the finest products from small-scale producers who use traditional methods and high-quality ingredients. We offer a range of cheeses that vary in texture, flavor, and intensity, allowing our customers to explore the diverse and rich world of cheese.
Testimonials
I visited Maison Morand yesterday as we are planning a cheese and wine night for new year's eve, my first one in Dubai since 20 years living here. I really felt that I am in Paris, except the weather. The choice and quality of products is wonderful, the shop design and products presentation are amazing, not to forget the wonderful welcoming of the team.

Andre Ishac | ★★★★★
Maison Morand is a cheese lover's paradise! The variety and quality of cheeses available is second-to-none in Dubai. The boutique's stunningly chic design and the team's expertise make it an absolute pleasure to spend some time perusing all the delicious options available and learning about the different cheeses. They also offer an amazing subscription service which would make an amazing gift- I certainly loved mine. A true gem in Dubai.

Yasmine Hamadallah | ★★★★★
A true gem for cheese lovers that for me, at least, brought Dubai a little closer to home. I truly believe here you will find cheeses to suit everyone's taste - from the mild, forgiving types to the acidic bleus, to some rarer treats for the true cheese aficionados. I found the staff to be also very kind, knowledgeable and truly enthusiastic about sharing their passion for cheeses. A must go!

Broderic Rezos | ★★★★★